• Economical

• Ecological

• Safe

• Comfort

COMBINED SYSTEMS: ONE APPLIANCE FOR SPACE AND WATER HEATING SYSTEMS!
Laboratory tests conducted by NGTC shows that the combined system by Duogaz can meet hot water and space heating needs simultaneously in average Quebec households. This system can also lead to sizable cost savings and save space at the same time.
The combined system: a cost-effective solution
This technology has been available for fifteen years and is becoming increasingly popular in the United States, where the total number of service units sold has exceeded on million in 1994, according to a study by the Gas Research Institute.
According to this study, annual sales, which were at 100,000 units already in 1989, continue to rise.
The combined system seems to be an appropriate and attractive solution to meet hot water and home heating needs at once. In fact, owners always look for appliances that do not take up much space in terms of volume or ground area when looking for space heating equipment and clean water-heating systems.
The chosen equipment must also have affordable initial and installation costs. Above all, this equipment must be practical, reliable, and fully deliver on its promise to provide hot water at the desired rate for an adequate length of time, as well as heat rooms properly.
The combined system meets all these criteria and tests confirm that it is ideal technology for housing purposes.
Figure 1 shows a diagram of the combined system.
Hot water stored in the hot water tank supplies clean hot water and is also used to heat the premises.
The hot water is used for regular household needs such as showers, baths, laundry, dishwashing, etc.
In order to heat the premises, the hot water circulates through a heating circuit to baseboard units (also known as hydronic baseboard heaters) or fan-coil units (i.e. unit heaters).
Benchmarking has confirmed the performance of the combined system.
The Natural Gas Technology Centre (NGTC) has performed laboratory tests in order to establish the benefits of a combined system.
Over a period of two months, the NGTC tested various typical space and water heating loads for Quebec households (see Table 1).
Type

Consumption

Simulation

Rate 126°F (52°C)

Duration

Shower
3,3 gal. US/Min.
100°F (36°C)
2,3 gal. US/Min.
(8,7 L/min)
8 min.
Bath
30 gal. US (113,5 L)
100°F (36°C)
6,3 gal. US/Min.
(23,8 L/min)
3,5 min.
Dishwasher
14,2 gal. US (54 L)
4,7 gal. US/Min.
(17,8 L/min)
3 min.
Laundry
6,0 gal. US (22,7L)
2,0 gal. US/Min.
(7,6 L/min)
3 min.
Other
4,0 gal. US/person/day
2,0 gal. US/Min.
(7,6 L/min)
2 min.
* Average cold water temperature: 29ºF (4°C)

Table 1: Typical household consumption in Quebec.
(Source: Segment and Consumption Analysis, Hydro-Québec.)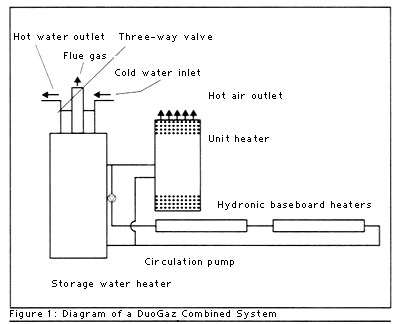 POWER FAILURE?

Maintain comfort in your home.
Hooked to a 1000-watt generator, this system remains operational and enables you to conserve heat and hot water during power failures.

DJ-40 hot liquid air furnace

Provides geothermal comfort at a much lower cost.
Furthermore, oxygen keeps its properties; it is not burnt by a flame or elements.
Due to its unique operational principle, the DJ-40 furnace quickly meets the demand for heat and therefore minimizes variations in temperature.
Ventilator control
"Continuous low-speed operation"
-The motor runs continuously at low speed in order to equalize the room temperature.
" Automatic function"
-Thermostat control can start the motor automatically at a much higher speed when required.
Coil
Copper tubing with aluminium blades where the heat-generating fluid circulates.
Motor and ventilator
4-speed motor pre-wired at factory to operate at two different speeds automatically. Ventilator mounted on anti-vibration chassis and balanced with precision to ensure noise-free operation.
Filter
Electrostatic, measuring 20" x 20" x 1".
Grabs dust and fibres, performs better than conventional filters, washable and durable.
Circulating pump
Allows the fluid to circulate along the coil.
Model

CFM
Range

Heating
BTUH

Dimensions
(H-W-D)

DJE 60-4
1020-1780
60500
20" x 6"x 20"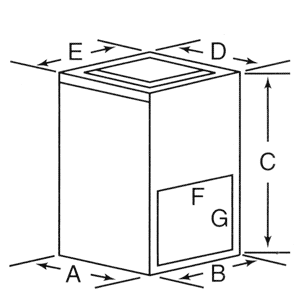 Dimensions
| | | | | | | |
| --- | --- | --- | --- | --- | --- | --- |
| DJ-40 | A | B | C | D & E | F& G | |
| | DEPTH | WIDTH | HEIGHT | AIR CHAUD | RETURN | WIRE DIAMETER |
| | 24" | 24" | 47" | 22"x22" | 20"x20" | 20"x20"x1" |
CAN/USA LICENSE